EASY KENYAN BEEF PILAU RICE RECIPE.
EASY KENYAN BEEF PILAU RICE RECIPE
Jump to Recipe
If you're looking for a different way to eat rice or looking to wow your guests next time you're hosting, then you must try this easy Kenyan beef pilau rice recipe.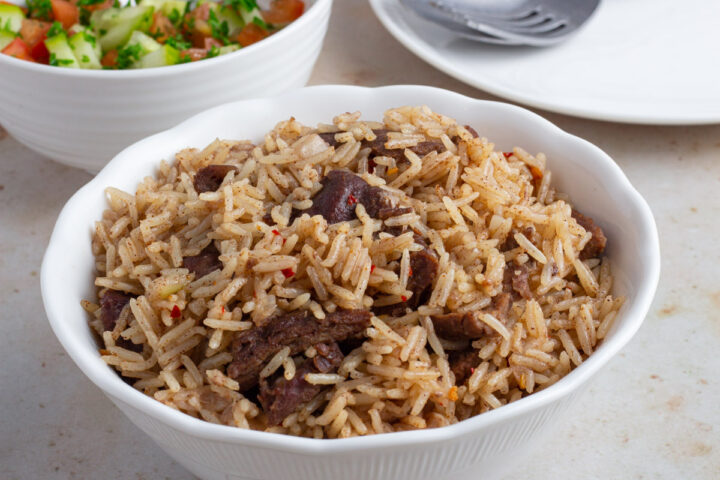 WHAT IS KENYAN PILAU RICE?
Kenyan pilau rice is a simple dish of rice flavoured with meat stock and spices and sometimes cooked with vegetables. This aromatic rice dish is commonly served at parties and occasions, usually with kachumbari (tomato & cucumber salad). Similar to jollof rice in West Africa, it is always present on Eid, Christmas and other special occasions. Kenyan pilau rice is also known as Swahili pilau rice and East African pilau rice.
Pilau dish is common in India and the Middle Eastern countries, each with its way of preparing it. The East African pilau rice is common in countries around the Swahili coast like Kenya and Tanzania; hence, it is also called Swahili pilau. Although there are a lot of Indian influences in the local cuisine of the countries around the Swahili coast, The Kenyan or Swahili pilau is more similar in appearance to the Middle Eastern version with a light brown colour than the Indian pilau with bright yellow colour from the addition of turmeric.
HOW TO COOK KENYAN BEEF PILAU
HERE ARE THE INGREDIENTS YOU NEED FOR THE BEEF PILAU RECIPE…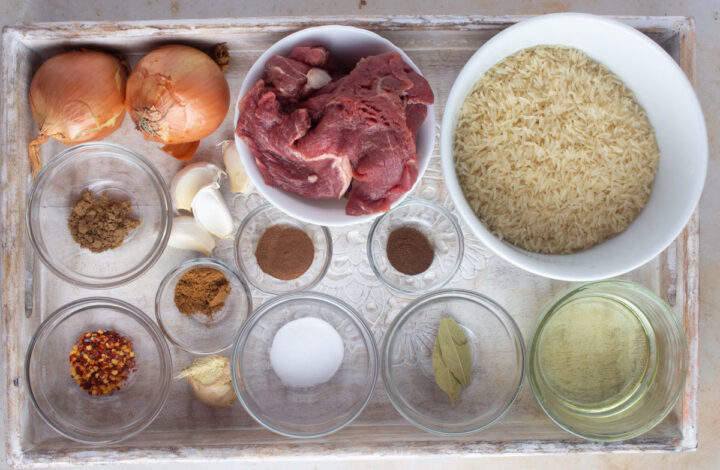 Beef
Onion
Garlic
Ginger
Bay leaves
Salt
Pepper flakes
A FEW NOTES ABOUT THE INGREDIENTS…
Rice: I used and recommend golden basmati to get the best pilau rice. Its appeal apart from its distinct flavor, is its ability to hold its texture during cooking, which makes it less likely to become sticky. It is also fluffy and works well in most rice dishes. If you don't have golden basmati; then other types of basmati or long grain non-stick rice are recommended for this simple pilau recipe with meat.
Beef: This is a beef pilau recipe. You can also have chicken pilau, goat meat pilau etc. Basically, the beef in the pilau can be substituted with other meats or replaced with vegetables like mushrooms to make it suitable for vegetarians.
Spices: Traditionally, whole spices for pilau are roasted and ground, but I have used already ground spices from my cupboard for convenience. You can use whole spices if preferred. Before grinding with mortar and pestle, you'll need to toast the whole spices in a pan. If you don't keep many different spices in your cupboard, pilau spice (pilau masala) is available already mixed. You can find it in Asia and Mediterranean stores. You will need two tablespoons of pilau masala for 2 cups of rice.
Pepper: I used pepper flakes because I didn't have black pepper at home when I wanted to make this recipe. You can substitute with black pepper powder.
HOW TO MAKE IT…
Peel the onions and garlic cloves.
Wash the beef and add into a pan. Slice in one onion and 2 garlic cloves with the ginger. Add bay leaves, with a cup of water and some salt to taste.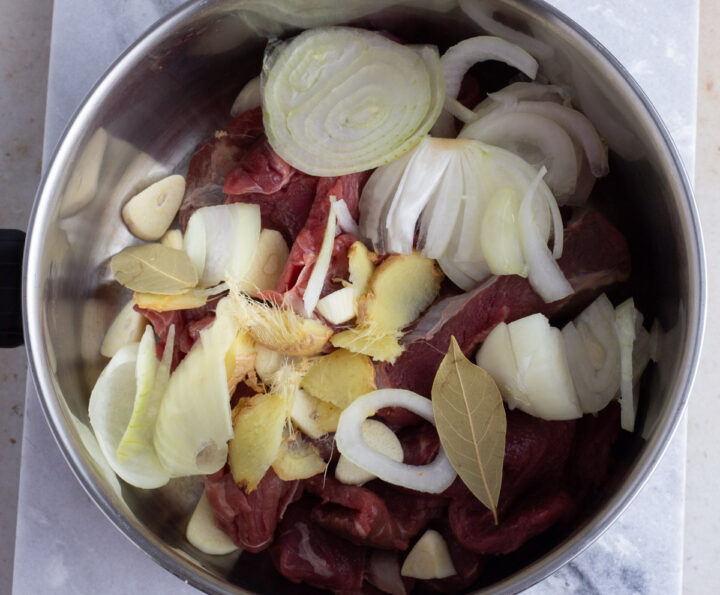 Cook until the beef is tender, then remove from heat. Keep the meet chunks and stock to one side.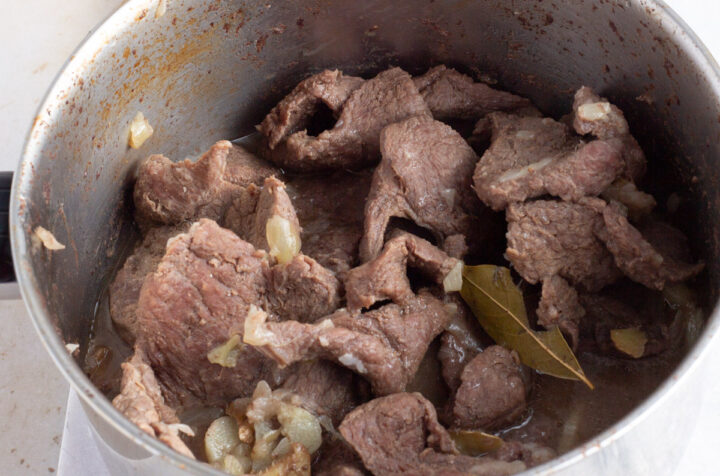 Chop the remaining onion and garlic.
Wash the rice and repeat until the water runs clear.
In another pan, heat the oil under low heat. Add the onions into the pot and cook until the onions start to caramelize and become brown. You should stir the onions with a wooden spoon continuously to prevent burning.
Pour in the garlic and the ground spices. The brownish colour comes from the brown spices. Stir for 30 secs.
Add the rice into the pot. Pour in the stock and meat chunks. Add more water so there is enough to cook the rice (read the rice pack instructions). Taste for salt and add more if needed.
Cover the allow the rice to cook until all the moisture is absorbed.
RELATED RECIPES
Other East African recipes to try are.