Male circumcision rates among major hospitals in Nairobi.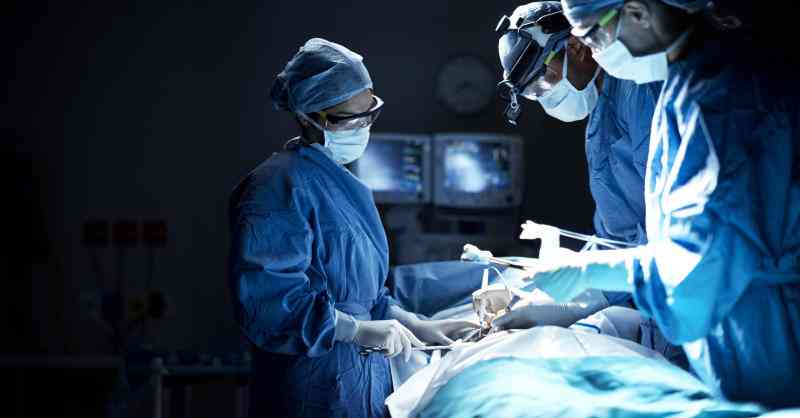 A team of surgeons performing a surgery in an operating room. [File]
Male circumcision doesn't come cheap in Kenya's capital Nairobi.
The Karen Hospital on Monday, December 5, put up a post on its official Twitter page indicating prices for male circumcision.
The hospital located in one of Nairobi's suburbs said it charges Sh40,000 for the cut under local anesthesia (LA) and Sh50,000 when using General anesthesia (GA).
The fee, according to the hospital, does not include bed charges for an overnight stay or a consultation with the doctor before and after the surgery.
The service is treated as an outpatient process.Prices by various hospitals across the city did not have significant disparities compared to the Karen Hospital.Avenue Hospital in Parklands, Nairobi said they charge Sh45,000 for the cut under General anesthesia and Sh35,000 for Local anesthesia.
The hospital however said that it allows patients to use the National Hospital Insurance Fund (NHIF), but only for civil servants from job groups L to T.
Parents wishing to take their kids to Avenue Hospital will not be required to submit a deposit, and can only find out the specifics of the procedure upon visiting the institution.
You will be charged Sh33,000 for the cut at Gertrude's Children's Hospital, located in Nairobi's affluent Muthaiga estate.
The procedure is for children aged 13 years and above.
Parents and guardians in civil service can also pay with NHIF insurance but depending on their job grades.
Should you wish to take your child to Gertrude's, no deposit is required and payments will be done at the hospital.
A spot-check by The Standard revealed that the cost of the cut is highest at MP Shah Hospital.
Nairobians will pay up to Sh70,000 for the procedure using Local anesthesia and Sh80,000 using General anesthesia.
The hospital accepts insurance but only for civil servants from Job Group L and above.
St Mary's Mission Hospital revealed it charges Sh15,000 for the cut, using general anesthesia.
However, the hospital does not take insurance, and the procedure could last up to three hours.
The cut under Local anesthesia at the Nairobi Women's Hospital will cost you Sh8,000, and Sh15,000 under General anesthesia.
No deposit is required for the procedure and patients also get medication and at least one outpatient visit.