Why a Kardashian Met Gala snub matters
Kim Kardashian and Pete Davidson at the 2022 met gala
According to Page Six, celebrity clan the Kardashians have been culled from Vogue editor Anna Wintour's guest list for the upcoming Met Gala in May.
This sounds like frivolous fashion gossip – who really cares whether they go or not? Isn't it Kim Kardashian who supposedly damaged a dress once worn by Marilyn Monroe last year? Another year Kim dressed up as a sofa. (Technically it was a Givenchy dress, and it sparked a trend in head-to-toe florals.) The Kardashian snub, however, hints at a wider cultural shift in the fashion world.
Dubbed fashion's Super Bowl, the Met Gala launched in 1948 to raise money for the museum's new Costume Institute, whose archive of clothes today totals 33,000 pieces. Since 1995, Wintour has presided over the event. Under her guidance it has become one of New York's biggest fundraising events (last year it raised $17.4m), and it has been an unofficial global advertising campaign for the fashion industry.
Importantly, it cements Wintour's position as one of the most if not the most – powerful person in fashion. She controls the guest list, the seating plan and often who wears what. In Anna: The Biography, writer Amy Odell says it's where Wintour flaunts her dominance over an industry that's predicated on the understanding that there is an "in" and an "out". That Wintour has allegedly decided the Kardashians are out speaks volumes about the pivot she wants the fashion world to take.
Wintour first put Kim Kardashian, alongside then-husband Kanye West, on the cover of Vogue in April 2014. Kim also appeared solo on covers in 2019 and 2022, and she has been at every Met Gala this decade. Last year, the whole family were invited.
Back in 2014, Kim and Kanye's Vogue cover encountered a huge backlash. Wintour later defended it, stating that "Kim and Kanye were a part of the conversation of the day. And for Vogue not to recognize that would have been a big misstep". So why has the conversation changed?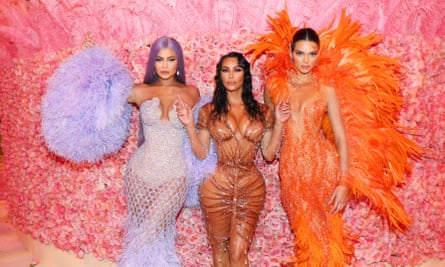 While Kardashian "stunt dressing" is generally expected at the gala, last year's Marilyn Monroe dress dominated the fashion news agenda, drawing criticism from both industry conservators and from dieticians concerned about the weight-loss regime she claimed to adopt in order to fit into the garment.
Kim was also criticized late last year for not speaking out quickly enough following Balenciaga's controversial ad campaign featuring children holding teddy bears in bondage gear (she had previously worked closely with the brand's designer Demna, starring in campaigns and even attending the gala with him in 2021). She eventually said she was "re-evaluating" her relationship with the fashion house. In January, she caused more drama by selling Balenciaga items on the family's resale site, Kardashian closet.
It's this apparent grabbiness that seems to irk people the most. When the Kardashians joined Instagram in 2010, they embraced the glossy and aspirational aesthetic it championed. Over a decade later, following the arrival of TikTok, there has been demand for more authentic content. Private jets, polished selfies and endorsements for everything from weight loss teas to waist trainers don't chime with Gen Z's penchant for de-influencing. Even TikTok's Bold Glamour filter, which gives users poreless skin and plumped-up lips, is being shunned by users. This rebellion against the "Kardashianisation" of the face perhaps hints that their popularity has peaked.