Samia revives hopes of making agriculture true economic pillar
Dar es Salaam. Agriculture has always been said to be the economic mainstay, but with little attention given to it, the sector has largely remained rain-fed.
However, stakeholders now see the sixth phase regime, under President Samia Suluhu Hassan, through rose-coloured glasses, thanks to her political will to take the sector to new heights.
Analysts are of the view that earlier attempts at improving agricultural productivity through such slogans as Kilimo cha Kufa na Kupona, Kilimo Kwanza and other daring interventions lacked the political will that could attract both public and private sector investments to spur the sector's growth.
However, with a significant budget for the agriculture sector, a fertilizer subsidy, a good plan to utilize irrigation schemes for available arable land, and opening export markets, the agriculture sector will have a reason to fly high.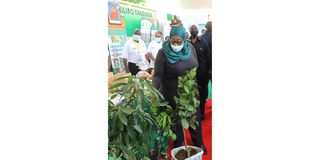 The Sh954 billion budget set aside for the agriculture sector during the 2022/23 financial year, compared to the preceding year's Sh294 billion, shows how serious President Hassan's administration is in its effort to transform the sector.
This suggests that this year's budget has recognised that in Tanzania, agriculture is pivotal to economic development and more of the efforts to revive the economy and significantly reduce the level of poverty.
This year's budget prompts a reflection on the enormous efforts by the government to reposition agriculture to its place of providing food for human consumption and raw materials for industrial needs, as well as generating foreign exchange earnings and employment for the especially young population.
But this will only be possible if it is devoted to revamping the agricultural sector by ensuring it has all the resources it needs.
He poured praise on President Hassan for putting in place good policies for opening the export market, a fertilizer subsidy, a good plan to utilize irrigation schemes for available arable lands, and subsidised fuel prices to reduce the costs of production.
In an effort to boost agriculture, late last month, the government revived the Tanzania Fertiliser Company (TFC) in a bid to ensure sufficient supply of fertilisers at a lower price than the market price.
Being eight years after the company stopped involving itself in selling fertilisers due to commercial and capital reasons, TFC is back in the game and the government in January launched the distribution of the product at a subsidised price.
Agriculture minister Hussein Bashe is on record as saying until earlier last month, the government had supplied 247,000 tonnes of fertilizer to the food basket regions, which include Mbeya, Songwe, Iringa, Njombe, Morogoro, Rukwa, Ruvuma and Katavi.